Having your Materials Delivered
◊ Delivery price includes curb side or driveway unloading. This means we want a safe unloading place, normally where vehicles travel, to protect your property and our truck!  Our driver is responsible for damage to his truck so it is his discretion on unloading location safety. Restrictions from unloading safely include tree branches, curbs, sidewalks, ground grade, utilities.
◊ Before we can deliver, payment  is required: When you place your order, you may pay with cash, credit card and local personal checks accepted with check writers verified AZ Driver's License and  phone number.
◊ Delivery charges and a credit card processing fee will apply if material is not received and unloaded at your site.
◊ We can deliver multiple complementary products in the same truck and layer them (or smaller amounts place them side-by-side) in the bed so they dump out somewhat mixed for no extra charge. Also you can have multiple bobtail loads delivered and receive a multi-load delivery discount.
◊ Most alleyways and backyards restrict us from unloading safely without damage, we can advise you of your situation with the aid of Google Maps. Please consider an alternate dump site if needed. Factors to consider: power lines, tree branches, curbs, sidewalks, ground levels, utilities. ( additional unloading fees apply ).
◊ Additional unloading fees are $20.00 minimum charge. Additional stand-by time: $1.42 per minute.
◊Tail gate spreading is available. Site conditions such as grade or slope, obstructions, will be considered by the driver before attempting. (1)  pass of the truck until truckload is empty.
◊ Delivery distance is calculated from the Acme yard at 22nd Street at Pantano Road. Quantities can affect delivery price, call us to get a detailed quote.
Delivery charges from Acme at E. 22nd & Pantano Rd. to your location. Multi-Load Delivery discount available
| DISTANCE MILES | DELIVERY CHARGE |
| --- | --- |
| 1 - 5 | $39.00 |
| 5 - 10 | $49.00 |
| 10.1 - 12.5 | $59.00 |
| 12.6 - 15 | $69.00 |
| 16 - 20 | $79.00 |
| 21 - 25 | $99.00 |
| **10 TONS - 10 MILE Radius** | **FREE DELIVERY - Driveway-Curbside un-loading** |
Our 10 TON truck requires 9 feet width and 18 feet height unloading clearance.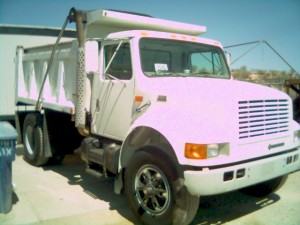 Loads of 21 tons, (sand or rock) or up to 25 cubic yards (compost , soil blends, wood chips) based on weight of the product. Free delivery zones on full truckload.  Driver's discretion on unloading location. Factors such as overhead lines, tree branches, curbs, sidewalks, meters and ground levels will be considered. This semi- dump requires 9 1/2 feet width and 22 feet unloading height clearance and needs ample turning radius. See Semi-load delivery prices.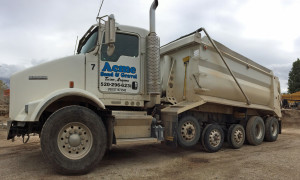 *** Because of all the types, sizes and weight of our products, please purchase wisely. Bring a sample of your material to compare that colors and sizes match. We do not offer refunds or returns. ***