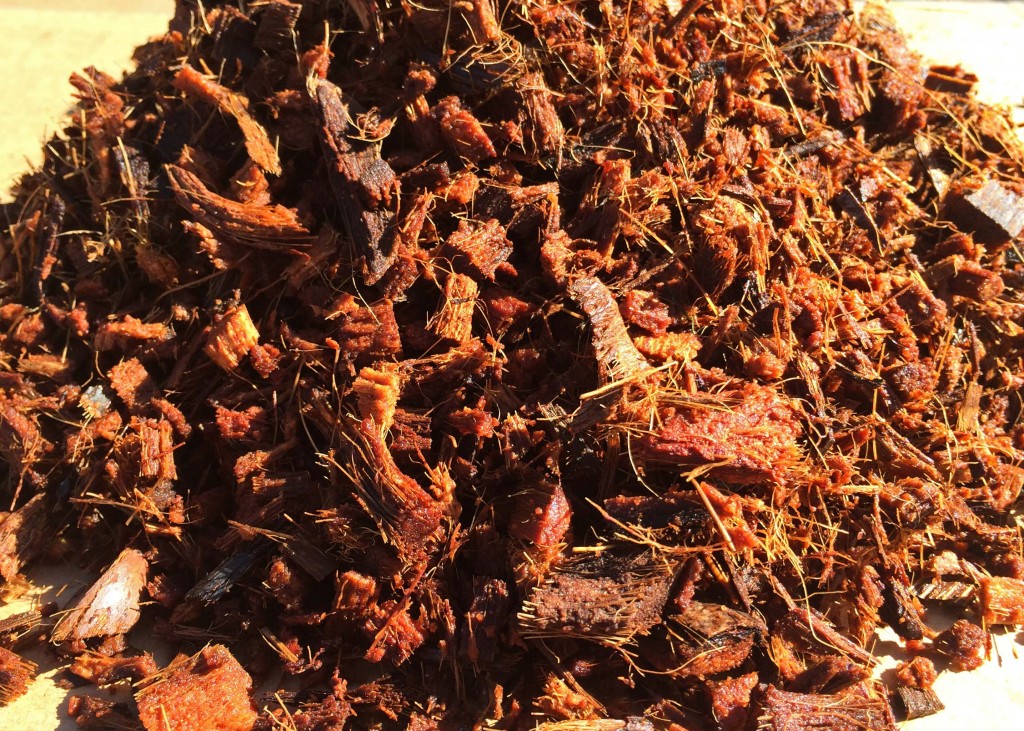 We carry three varieties of Coco Coir in compressed 10 lb. blocks that will expand to 2.5 cubic feet.
1. Coco Coir Peat
2. Coco Coir Chips and Fiber
3. Coco Coir Large Chips

  Coco Coir (pronounced 'koy-er') is a natural fiber extracted from the outer shell of a coconut husk.  Coir is a natural by-product of coconut harvests and a sustainable alternative to peat moss. Coir's primary use is as a soil additive and planting medium. The fiber from the coconut husk is sorted into the fine grain peat, chips and fiber, and larger coco chips. The short grained coco peat is well screened with no dust. It has higher water retention than the larger chunks but provides less aeration and can take longer to dry. The pith is used for growing media applications such as seed flats or can be used in combination with the larger chunks to improve moisture capacity. Coir Chips/chunks are used to provide structure to improve air porosity of growing media. The larger coco chunks have less water retention then the peat but provide more drainage and aeration. The loose structure promotes root health and growth.
  The primary feature of coir is its ability to have a high water-holding capacity while providing a high level of aeration and good drainage. Another advantage is that coir also has a neutral pH of 5.5-6.2.The coco husks are all sourced from trees grown at least 5 miles inland from the ocean and are rinsed in fresh water. The inland trees absorb less salt water and the fresh water cleans and leeches the husks. This process greatly reduces the salt content of the final coir. The coconuts are harvested when the outer husk is still green or brown. Coconut husks naturally contain large amounts of lignin, and this earlier harvesting helps preserves it. Lignin decomposes slowly and gives coir its durability. Lignin is also the primary food source for wood loving mushrooms, making coir a perfect growing medium for mushrooms. Coco coir is free of bacteria, plant disease, fungi, weeds, and pathogens and also naturally inhibits infection from pythium (plant parasites) and phytophthora (water mold).
  Coir is often used as the primary substrate for potting and sometimes in raised bed gardens. Coir by itself has a low nutrient content so it requires amending, just like topsoil. Compost can be mixed with the coir to provide fuel and nutrients for the plants. Liquid fertilizers or compost teas can also be use to provide necessary nutrients. The addition of Vermiculite helps improve the coco fiber's ability to transfer nutrients to the plant. Pumice helps with aeration when used with the finer grained coco pith. Dolomite limestone can provide calcium and magnesium and gypsum will add calcium and sulfur.
See more info at: Coconut Coir- A Universal Potting Medium?
Coco Peat

Coco Peat is a natural fiber by-product of coconut harvests and a sustainable alternative to peat moss. It is ground very fine and is used for growing media applications such as seed flats and a soil additive planting medium. Compost can be mixed with the coir to provide fuel and nutrients for the plants. The addition of Vermiculite and Pumice helps improve the coco fiber's ability to transfer nutrients to the plant and helps with aeration and moisture retention.


$13.00 Expandable Cube

1 Cubic Yard Bulk Bag contains 11 blocks. $189.00

Coco Chips and Fiber

Coco Chips and Fiber is a medium fiber and small chip mix. Coir is a natural by-product of coconut harvests and a sustainable alternative to peat moss. It is used is as a soil additive and planting medium. Compost can be mixed with the coir to provide fuel and nutrients for the plants. The addition of Vermiculite and Pumice helps improve the coco fiber's ability to transfer nutrients to the plant and helps with aeration and moisture retention.

$13.00 Expandable Cube

1 Cubic Yard Bulk Bag contains 11 blocks. $189.00

Coco Large Chips

Coco Large Chips are a chunky 1 inch chip and fiber mix. Coir is a natural by-product of coconut harvests and a sustainable alternative to peat moss. It can be used is as a mulch ground cover and soil amendment that helps with aeration and moisture retention and planting medium with compost.
$13.00 Expandable Cube

1 Cubic Yard Bulk Bag contains 11 blocks. $189.00